Posted: January 29, 2008
| Author: Ruhi
|
Filed under: Cartoons, comics, CSS, E-books, E-mail, Facebook, General ramblings, GMail, Google, greasemonkey, Life, Microsoft, Mozilla Firefox, Programming, social bookmarking, Social Networking, Software, Technology, Themes, Thoughts, Tumblr, Web 2.0, Web designing, Windows Vista, Wordpress, yahoo
| Tags: addons, Blogging, browsers, cocomments, computers, delicious, digg, extensions, firefox, flock, General ramblings, greasemonkey, Instapaper, laptops, Life, mozilla, operating system, reddit, senduit, shareaholic, social bookmarking, stumbleupon, Technology, Thoughts, userscripts, Web 2.0, windows, Wordpress
|
27 Comments »
Amit Agarwal from Labnol recently posted a link to Gina's article, where she's listed all the programs that are currently installed in her computer. I have seen many other bloggers prepare such lists too. I spend so much of my time every day, tinkering around with various applications, but have never given them any credit on my blog. So this post is a tribute to all these lovely creatures who improve my browsing experience every single day. It might help you get some ideas or discover some new tools too.
My primary Laptop: Compaq Presario V2000 with Windows XP Operating System
Secondary Laptop: HP Pavilion dv2000 with Windows Vista Operating System
My desire is to own a tablet PC made by Apple. I'll buy it as soon as it's released.
I also fester desires of learning how to install a fully functioning Linux OS someday!
Browsers: The social browser Flock- Amazing browser for people who are avid bloggers and social networkers on sites like Twitter, Facebook, Youtube, Flickr etc. Check out my review here.
Mozilla Firefox version 3 beta 2- Just downloaded it yesterday and I'm in love with their new location bar feature, that pulls out page titles and addresses in two different lines and colors, from your recent browser history and bookmarks!
Here's a screen shot from the Official Website:
Add-ons and Extensions:
Shareaholic- An extension that lets you submit a page to countless number of social networking sites such as Digg, Delicious, Stumbleupon, Google Bookmarks, Friendfeed, Facebook etc. You can customize the drop down menu to include only those bookmarking sites that you use. You can also email the page you're viewing. Here's a screen shot (notice the green button with a drop down list only):
Screenshot: This Flock extension allows you to save webpages (entire, visible portion, selection) and windows (eg. browser, blog, uploader) as .png or .jpeg images. You can save these images to your file system, the clipboard or even send them straight to the photo uploader.
Cocomments: This extension helps me track every single comment that I've left on any sort of web page- Be it a website, blog or a channel like Youtube. I get notifications in my browser (in the shape of a small envelope) if there's a reply to my comment. I find this to be really helpful because the "My Comments" tab at WP.com is very slow and it only shows a certain number of recent conversations. Plus, there's no other way that I can track my comments left on non-WP.com blogs. All you've got to do is install the extension and it takes care of everything!
Here's a screen shot: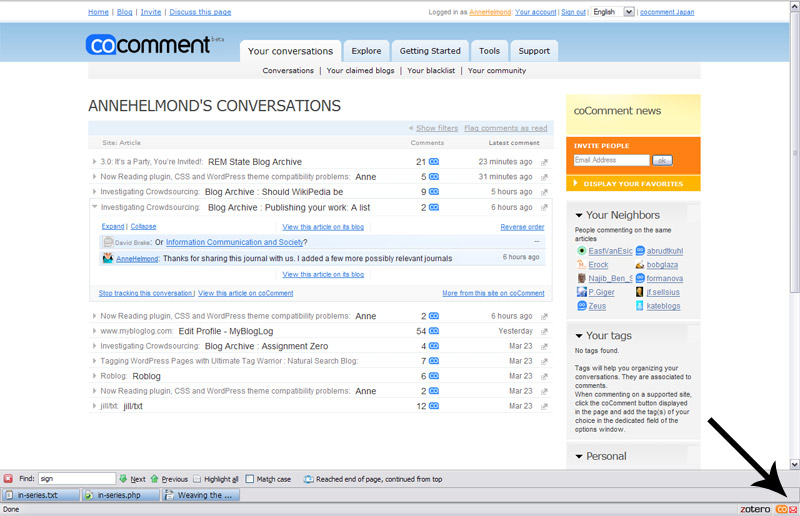 Greasemonkey: What in the world would I Do without this add on?
This is the best thing about Firefox and Flock. Too bad that Internet Explorer people have to suffer! Currently, I'm using the following scripts:
LookitUp2- Quickly look something up in wikipedia, a dictionary or whatever you like (its easy to add custom sites!). The result is displayed directly on the page.
TextareaBackup- Retains text entered in text areas
WordPress Comment Ninja- Respond to comments directly by post and/or email from inside your WordPress dashboard. For WordPress bloggers.
Comment Pre-fill- Fillout comment form fields with a single keyboard shortcut!
Greased Lightbox (v0.15)- Enhances browsing on websites that link to images such as Google Image Search, Flickr, Wikipedia, Facebook, MySpace, and deviantART
Userscripts.org Rank By Popularity- When browsing scripts on userscripts.org it will change the icon on the left to show how popular a script is. Very useful for focusing on the best scripts.
Mailto 2 Webmail- Open those "mailto:" links in your GMail, Yahoo, AOL etc. email accounts instead of the default Outlook Express.
Yahoo Pipe Cleaner- Removes most of the HTML markup from Yahoo Pipe run output so that it can be cut-and-pasted into WordPress blogs.
Out of these, my absolute favorite is the WordPress Comment Ninja and the Greased Lightbox (when I'm looking at images and want to see the expanded version, all I do is click on the picture and it zooms out. No need to open another link! Cool, isn't it?
You can also check out this and this, where I've prepared a list for other scripts that are very useful.
GoogleDocs Extension: Great stuff for all you Google Fans out there.
From the official website:
With gDocsBar, you can drag and drop multiple files into the sidebar to upload documents. You can search and filter documents right from the sidebar. Your Gmail credentials are sent to Google directly over SSL. Your passwords are stored in Firefox Password Manager.
Software Applications:
Pidgin- Log into all chat clients and receive new email notifications and lots of other features.
WinRAR- For opening zipped files
DietMP3- compress your MP3 files
TextPad- Works great for CSS/HTML coding etc.
CDisplay- For reading e-comics
Irfanview- Resizes your images and lots of other capabilities
Apart from this, there's the usual crap that's worth not mentioning. I prefer to keep the number of applications running at the minimum and have a fetish for keeping my hard disk neat and tidy.
Some other junk that I found over the internet:
Ten Quickfixes to Make Your Windows Computer Run Faster 
DownloadmyLink- Free Megashare/Rapidshare file downloader…no need to wait for 60+ minutes or reset your internet connection.
Senduit: Easily share you files- very clean UI
Instapaper: Bookmark those articles that you want to "Read Later" and might not be "Delicious".
---
Posted: December 12, 2007
| Author: Ruhi
|
Filed under: Amazon, Blogging, Facebook, General ramblings, GMail, Google, greasemonkey, Movies, Social Networking, Thoughts, Wordpress, YouTube
| Tags: add ons, Blogging, facebook, flock, General ramblings, Gmail, Google, greasemonkey, Movies, Mozilla Firefox, Technology, Thoughts, web browsers, Wordpress, YouTube
|
10 Comments »
The power of customizing your internet experience with the help of Greasemonkey Scripts is limitless and it's one of the best things about using Mozilla Firefox. All of these scripts also work with the social web browser, Flock. In case you didn't know, Greasemonkey is an add on that lets you install user made scripts.
Here's a list of my favorite Greasemonkey scripts (I'm using ALL of them currently)-
For Facebook Users-
UnF*ck Facebook- If you're sick of rummaging through millions of third party applications on your friends' profile pages before you reach the Wall, then this is the script for you. I have been using this script since yesterday and I would give it a 5/5. It's that good. I was transported back to the time when Facebook didn't have all those annoying Facebook applications.
Amazon Users-
Cleaner Amazon(screenshot available)- I really love buying books and electronics from Amazon and if I were richer, then I would have spent al my money there. This script "gets the useful book information (pub date, ISBN, #pages) closer to the top, eliminates some useless sections (best value, customers also bought, etc.)."
Movie Freaks-
The Movie Dude(screenshot available)- It adds cross links between many movie sites, such as Rotten Tomatoes, IMDB, Netflix, Yahoo! Movies, Flixster etc. It's really cool and you should definitely give it a try. For example- Just search for any movie in the IMDB wesbite and you'll find small favicons that will cross link to the other movie sites.
Search function made easier- LookItUp lets you search for any word of your choice on various websites such as Google, Wikipedia, Answers.com, The Free Dictionary etc. without leaving the web page. All you gotta do is highlight the word and press "?". There are many other shortcuts that can be learned from the developer's page.
Delicious_Blank: Adds a target _blank to links so that they can open in a new tab instead of a new window.
Textarea Backup: The primary purpose of this userscript is to save having to retype lost emails, forum posts, bug submissions, etc. The backup should be transparent so if the page is reloaded for whatever reason, be it browser crash, unintended exit or a forgetful website, the previously entered text will be restored.
Pre-Fill Comments Form: Complete the author, email & URL fields (& focus on the message box) in most comment forms by hitting 'ALT+C' .It is designed to work with wordpress blogs, but will work with any blog that uses the same id's for fields. You will be asked for your name/email/URL the first time you run the script. It will then remember your values so you never have to fill them out again! To change your name/email/url at a later date just hit 'SHIFT+ALT+C' and you will prompted for your new values.
Google Service Enhancers-
Google Search Results Ultimate Makeover- It adds a number of amazing features such as Google Suggest, search results are displayed in two columns instead of one, Adds Google Page Rank, enables snap shot, add favicons to all links, embeds videos right into the search results, removes all ads from the search page etc. Personally, I love this script a lot.
Edit: Forgot to add that I also like to use Customize Google along with this add on because it provide links to other search engines and blocks Google Analytics cookies.
Mailto 2 Webmail: Makes "mailto" links open in your favorite web-based email account, instead of a pop-3 client (like Outlook, Eudora, Thunderbird, etc.) Supports Gmail, Yahoo Mail, and Google Apps Mail.
Google Services in HTTPS: Change Google Url services using HTTP by same service using HTTPS for security.
Google Extra- Displays results for google image search, video search, wikipedia search, dictionary.com search and Dict.CN search alongside normal google searches.
From my Previous Posts-
WordPress Ninja Comment- Respond directly from the comment administration panel on your dashboard, by either a comment or an email or both.
Social Bookmarking for WordPress- Generates pure html code for adding social bookmarking links (with favicons with buttons)to blog posts at wordpress.com which users can click to add the blog post page to their fav. bookmark sites like del.icio.us,digg & 20 other bookmarking sites.
Are you lost? First time using a greasemonkey script?
don't worry! All you gotta do is make sure you're using Firefox/Flock web browser. Then install the greasemonkey add on. After that, you're ready to install any of the above mentioned scripts.
---
Posted: November 24, 2007
| Author: Ruhi
|
Filed under: Blogging, Facebook, General ramblings, Life, Social Networking, Technology, Thoughts, YouTube
| Tags: Blogging, browser, facebook, flickr, flock, General ramblings, Life, Mozilla Firefox, Technology, Thoughts, YouTube
|
20 Comments »
Those of you who love Mozilla Firefox will absolutely swoon over the 'social browser' Flock. It's out of beta finally and version 1 was released in early November. It's an absolute pleasure using it because it has a number of blogging and social networking tools. It has a number of wonderful features:
1. Inbuilt tool for writing a blog post: Just like Firefox users can add Performancing, Flock has this tool which has all the basic features needed for writing a bog post. I haven't yet tried it, but for those of you who write short posts (esp. after reading something on the internet), this feature will definitely come handy.
2. Screenshot: There is an amazing extension which can take screenshots of all the web pages! This reduces my reliance on Snippy and Microsoft OneNote.
The greater amount of integration there is in a browser, the better it is.
3. Remain signed into all those networking website right from the comforts of your browser: Yes! All you Facebook, Youtube, and Flickr enthusiasts, this one is for you. (Take a look at the picture above) You can use all the basic features of Facebook right from this sidebar. Same goes for Flickr and Youtube.
4. Upload pictures to Photobucket/Flickr/Facebook directly from your browser when the pictures are stored in your hard disk.
5. There is a "Media" tab that lets you browse through different Youtube videos and search and play your favorite ones in a mini window that always remains at the top. So, even if you are browsing the internet, the video window will stay on top of your current page. This reduces the need to stay on Youtube while watching videos. You can also browse recently uploaded photos on Flickr/Photobucket or photos uploaded by your friends on Facebook. (Take a look at the picture above).
6. Inbuilt Clipboard: Let's you drag and drop any URL, picture, text from a webpage on to the sidebar for later use.
Too good to be true huh?

6. I even like their Feed Reader. It's much cooler than Firefox's.
7. There is a tab called "My World" that provides a summary of everything that's
functioning in your browser at the current moment.
8. You can add other Flock users to your friend list using an add on called "Me.dium" and see what they're browsing. I haven't yet given this one a try, but soon, I will. If any of you want to add me, then leave me a comment.
Most of the Firefox plug ins and add ons work with Flock. My biggest fear was if the Greasemonkey script will work and it does!
Flock has special features that imports all your settings (including the add ons) from your Firefox browser.
The only thing lacking now is perhaps "Themes". I'm not really a user of browser themes; so it doesn't really matter to me.
Another really cool thing that I noticed is that suppose you are reading one of your friend's blogs. When you hover your mouse over their pictures, which in case they've uploaded from their Flickr album, then your browser will prompt you and let you view their entire Flickr album in the "Media stream at the upper corner of your browser. You can also ask your browser to let you know if your friends have updated their albums recently. Yes, lots of cool stuff…
So, why don't you give it a try? Let's flock n roll!
---